Wait Till Next Year
A Memoir
by Doris Kearns Goodwin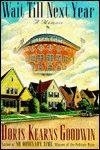 Wait Till Next Year became the mantra for Brooklyn Dodgers fans everywhere, as their favorite team was so often within reach of the ultimate prize, a World Series Championship, without ever actually getting there. Next year turned out to be 1955, when 'Dem Bums finally beat the hated Yankees. The phrase also entitles Doris Kearns Goodwin's memoir of growing up in Brooklyn in the 1950s and '60s.

What This Book Is: Kearns-Goodwin doesn't only focus on baseball (no accounting for taste), but also writes of the relationships she established in her formitive years with neighbors and friends, discusses some of the religious hangups that accompanied her Catholic upbringing, relates her views of the racial issues of the day, and of course, talks about how gut-wrenching it was to follow the Dodgers of the late 1940s and early 1950's. As I mentioned previously, 1955 became 'next year', the season in which those Dodgers finally won it all, and the celebration after this historical win (Brooklyn's only World Championship) marks the climax of the book. But relentless time would not evel allow her to savor that for long, as her mother's death, the departure of Walter O'Malley's Dodgers for Los Angeles, and the changing world around her forced young Doris to grow up much sooner than she would have preferred.

This book made for an interesting reading experience for me. The primary threads seen throughout the tapestry of Kearns-Goodwin's childhood are her cultural heritage (Irish-Catholic), her relationship with her father (a sometimes distant but very affectionate husband and father, who was also a successful businessman) and mother (a loving but often sickly woman), and her love of baseball, particularly the Dodgers. This left me with almost nothing of common value from my own childhood with which to relate to her tale, requiring me to entirely trust her story-telling skills to help me understand what it must have been like to be a female, Irish-Catholic, Dodgers fan growing up in 1950s Rockville Centre with a father who loved her. Thankfully, this male, Baptist, Euro-Trash, Yankee fan, product of divorce got the picture just fine.

What This Book Is Not: The other issue, at least for me personally, was the lack of a plot. This I think, is more my problem than the author's though, as she does state right on the cover that this is a memoir, not a novel. So don't be too disappointed when the 'bad-guys' don't show up right away, or if you don't immediately see the conflict. The bad guys are the Giants and Yankees, and the conflict is the classic struggle of time against humanity.

But you and I can still escape to a simpler time and place by curling up with your favorite blanket, a cup of hot tea, and a copy of Wait Till Next Year.

Don't wait. Go get your own copy soon.